H.G Kippax are one of the oldest names in screen printing and in 2019 celebrate their 60th anniversary. 

Even though the principle is still the same, techniques and machinery have moved on in leaps and bounds.
One of the latest products is the INPRO In-line Automatic Screen Cleaning Systems. The machines are made to suit the customers needs whilst tackling the bigger issues seen in screen reclamation and production. INPRO have created a system  and chemicals which tackle any ink whilst staying safe to the enviroment and staff. The all in one system makes easy work of preparing a used screen ready to use again. The system not only keeps the usual problematic areas clean and dry, but has the ability to reclaim soiled chemicals therefore reducing the machine running costs compared to similar units.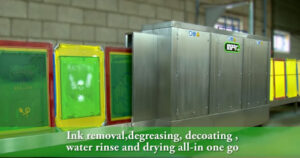 H.G Kippax have also produced a UV LED Exposure Unit in recent times and they are proving to be a huge success with customers. Some of the features are increased light lifespan, 80% reduction in power usage, space saving designs, customised inputs with recall memory, easy use touch screen with UK support.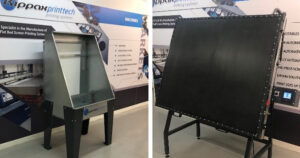 We will be demonstrating our Kippax UV-LED Exposure System, Kippax Stencil Developing Unit and new version of the INPRO TigerClean Developer system that is designed to directly compliment EXILE Technologies' SPYDER II and V-LUX Computer to Screen and Exposure System combination.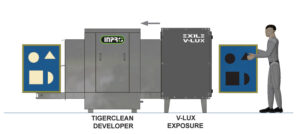 We are specialists in the manufacture of Standard & Bespoke Solutions in the following screen printing equipment
Flatbed Hand Tables ♦ Semi-Auto Machines ♦ ¾ Auto Machines ♦ Fully Auto Machines
————————————————–
Pre-Press Screen Making Equipment ♦ Screen Cleaning Equipment ♦ UV-LED Exposure Systems ♦ Drying Solutions
—————————————————
Service, Support & Training
Please come all along and discuss your requirements with our Sales Team